ALLA Book Award
(Revised Guidelines)
The Association of Latina and Latino Anthropologists (ALLA) invites submissions for the 2016 ALLA Book Award.  The award is for the best book in anthropology published from June 1, 2014 to June 1, 2016 on Latinas/os and their communities.  Ethnographic books in other disciplines may be considered.  The committee of readers will judge each entry on the basis of the originality of the research, the quality of the writing, and the importance of the topic for understanding the Latina/o experience in the United States, or in transnational communities linked to the U.S.
Authors receiving recognition will be honored at the annual meeting of the American Anthropological Association during the ALLA business meeting in Minnesota and their book will appear on the ALLA website.
To participate in the competition, please send a copy of the book (or a digital version that can be accessed by multiple viewers) and a cover letter with the book title, the author's name and affiliation to each of the four ALLA Book Award Committee members to the addresses below. All material must be received by June 10, 2016. Questions can be directed to the Committee Chair, Dr. Gilberto Rosas grosas2@illinois.edu.
Dr. Gilberto Rosas
University of Illinois, Urbana-Champaign
Department of Anthropology
607 S Matthews, RM 109
Urbana, IL, 61821
Dr. Ramón H. Rivera-Servera
Department of Performance Studies
Northwestern University
70 Arts Circle Drive
Room 5-157
Evanston, IL 60208
r-rivera-servera@northwestern.edu
Dr. Anahi Viladrich
69-10 108th street, 8E
Forest Hills, NYC
NY 11375
Dr. Aimee Villarreal
902 El Monte Blvd.
San Antonio, TX 78201
All material must be received by JUNE 10, 2016
2014 Book Award Winners: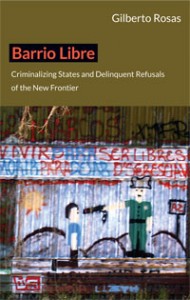 Gilberto Rosas: Barrio Libre: Criminalizing States and Delinquent Refusals of the New Frontier, Duke University Press.
Description: The city of Nogales straddles the border running between Arizona and Sonora, Mexico. On the Mexican side, marginalized youths calling themselves Barrio Libre (Free 'Hood) employ violence, theft, and bribery to survive, often preying on undocumented migrants who navigate the city's sewer system to cross the US-Mexico border. In this book, Gilberto Rosas draws on his in-depth ethnographic research among the members of Barrio Libre to understand why they have embraced criminality and how neoliberalism and security policies on both sides of the border have affected the youths' descent into Barrio Libre.
Rosas argues that although these youths participate in the victimization of others, they should not be demonized. They are complexly and adversely situated. The effects of NAFTA have forced many of them, as well as other Mexicans, to migrate to Nogales. Moving fluidly with the youths through the spaces that they inhabit and control, he shows how the militarization of the border actually destabilized the region and led Barrio Libre to turn to increasingly violent activities, including drug trafficking. By focusing on these youths and their delinquency, Rosas demonstrates how capitalism and criminality shape perceptions and experiences of race, sovereignty, and resistance along the US-Mexico border.
Honorable Mention: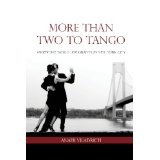 Anahi Viladrich: It Takes More than Two to Tango: Argentine Tango Immigrants in New York City, Arizona University Press.
Description:
The world of Argentine tango presents a glamorous façade of music and movement. Yet the immigrant artists whose livelihoods depend on the US tango industry receive little attention beyond their enigmatic public personas. It Takes More than Two  to Tango offers a detailed portrait of Argentine immigrants for whom tango is both an art form and a means of survival.
Based on a highly visible group of performers within the almost hidden population of Argentines in the United States, More than Two to Tango addresses broader questions on the understudied role of informal webs in the entertainment field. Through the voices of both early generations of immigrants and the latest wave of newcomers, Anahí Viladrich explores how the dancers, musicians, and singers utilize their complex social networks to survive as artists and immigrants. She reveals a diverse community navigating issues of identity, class, and race as they struggle with practical concerns, such as the high cost of living in New York City and affordable health care.
Argentina's social history serves as the compelling backdrop for understanding the trajectory of tango performers, and Viladrich uses these foundations to explore their current unified front to keep tango as their own "authentic" expression. Yet social ties are no panacea for struggling immigrants. Even as More Than Two to Tango offers the notion that each person is truly conceived and transformed by their journeys around the globe, it challenges rosy portraits of Argentine tango artists by uncovering how their glamorous representations veil their difficulties to make ends meet in the global entertainment industry. In the end, the portrait of Argentine tango performers' diverse career paths contributes to our larger understanding of who may attain the "American Dream," and redefines what that means for tango artists.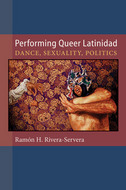 Ramón Rivera-Servera: Performing Queer Latinidad – Dance, Sexuality, Politics, University of Michigan Press.
Description:
Performing Queer Latinidad
highlights the critical role that performance played in the development of Latina/o queer public culture in the United States during the 1990s and early 2000s, a period when the size and influence of the Latina/o population was increasing alongside a growing scrutiny of the public spaces where latinidad could circulate.  Performances—from concert dance and street protest to the choreographic strategies deployed by dancers at nightclubs—served as critical meeting points and practices through which LGBT and other nonnormative sex practitioners of Latin American descent (individuals with greatly differing cultures, histories of migration or annexation to the United States, and contemporary living conditions) encountered each other and forged social, cultural, and political bonds. At a time when latinidad ascended to the national public sphere in mainstream commercial and political venues and Latina/o public space was increasingly threatened by the redevelopment of urban centers and a revived anti-immigrant campaign, queer Latinas/os in places such as the Bronx, San Antonio, Austin, Phoenix, and Rochester, NY, returned to performance to claim spaces and ways of being that allowed their queerness and latinidad to coexist. These social events of performance and their attendant aesthetic communication strategies served as critical sites and tactics for creating and sustaining queer latinidad.
2012 Book Award Winners: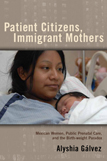 Alyshia Gálvez— Patient Citizens, Immigrant Mothers: Mexican Women Public Prenatal Care, and the Birth Weight Paradox. Rutgers University Press, 2011.
Patient Citizens, Immigrant Mothers: Mexican Women Public Prenatal Care, and the Birth Weight Paradox as a timely contribution for troubled times cannot be overstated. The book is rich in narrative and meticulously grounded in the current literature and scholarly understanding of the feminization of migration. Moreover, Gálvez' book goes to the core of many of contemporary current cultural wars over reproductive rights and political debates about immigration. Students would do well to take note of it as an example of applied research on matters that concern our every-day society and politics. Galvez's nuanced approach pierces the hardened surface of media punditry about migration to the United States and anxieties over "anchor babies," for within it are insights about the realities of the immigrant women experiences: their daily negotiations through life's challenges, family and work commitments, and transnational linkages. These are carried out amidst hope for identities that can propel their aspirations and dreams of dignity and fulfillment as mothers and as symbols of the anti-immigrant wrath sweeping the nation. She poignantly states that the efforts of women in the study quietly manage their pregnancies as well as child-rearing within conceptualizations of modern, migrant identities. They are eager to embrace the prestige of biomedicine, as symbol of modernity, contrasting to their struggles to survive in rural Mexico and its globalized economy. In this way, they occupy the often contentious transitional and transnational spaces of migration. This standpoint is later contrasted with the harsh realities of life in the United States that see them demonize as less valuable and flashpoint for the construction and reaffirmation of existing power hierarchies. It is a process by which the "reproductive futures" of some are valued, while those of racialized Others are disparaged, depicted as irrational and irresponsible, and despised.
For these reasons and many more, we are pleased to recognize the accomplishment, and award the 2012 ALLA Book Award to Alyshia Gálvez' ethnography Patient Citizens, Immigrant Mothers: Mexican Women Public Prenatal Care, and the Birth Weight Paradox. Gálvez' work goes right to heart of the immigrant experience by dismantling and providing a very different perspective on the "anchor baby" controversy. The birth-weight paradox, and immigrant paradox among Mexican immigrants in the U.S. have stumped many physicians and social scientists alike. Patient Citizens, Immigrant Mothers: Mexican Women Public Prenatal Care, and the Birth Weight Paradox asks important questions in regards to Latina health, and reproductive health care, by challenging the assumptions of modernity, and efficacy in the U.S. health care delivery system. Gálvez' work among perinatal Mexican women in New York City has implications not only for researchers trying to understand this phenomenon, but also for the diasporic Mexican community navigating complex and often contradictory bi-cultural traditions and health care practices. Patient Citizens, Immigrant Mothers: Mexican Women Public Prenatal Care, and the Birth Weight Paradox is not only ethnographically vivid, but theoretically strong, contributing to the feminist and medical anthropological literature, particularly in the area of authoritative knowledge. Gálvez' ethnography crosses academic disciplines by spanning applied and theoretical medical anthropology and Latino studies, among others.
 HONORABLE MENTION
Elaine A Peña's Performing Piety: Making Space Sacred with the Virgin of Guadalupe (California, 2011) is a moving account of the predicament of Mexican immigrants displaced from their own country and living in the United States. Among the most memorable passages in this book is a description of the struggle of Guadalupanos in the Chicago area to create and maintain a shrine dedicated to the Virgen de Guadalupe in Rogers Park, a multi-ethnic urban area in Chicago's Far North Side. It was here where, on July 3, 2001, a woman originally from Guanajuato, Mexico, "who may or may not be accounted for by the census data, stood on a street in Roger's Park. Some neighborhood Guadalupanos believe she was waiting on the corner of Rogers and Honere behind Pace Bus Stop # 290 with her daughter, Guadalupe, when she heard her name called. Others reported she felt a tap on the shoulder, which had alerted her to the Virgencita's presence. Another account suggests she merely felt compelled to look behind her toward the tree where she saw the Virgin of Guadalupe's image ingrained." (2011: 115) In her crisp and clear prose, Elaine Peña tells how the Guadalupanos tried to create ties to a locality far from home and family that had some semblance of the life they had left behind. Rogers Park is a public space, and the Guadalupanos ran into underlying prejudices and xenophobic attitudes that ultimately proved the undoing of their shrine near the tree where traces of the image of the Virgen of Guadalupe had appeared on an oval protruding from the tree's bark, approximately six feet above the sidewalk. To place the meaning of shrines like this one in a broader perspective, Elaine Peña participated in two pilgrimages one from Querétaro and another from Zitácuaro, Michoacán, to the shrine of the Virgin of Guadalupe in Tepeyac in Mexico City. Her aim was to discover the meaning the Virgen has for the Guadalupanas who make long journeys on foot in acts of devotion. Elaine Peña discovered that while Guadalupanas in both Mexico and the United States have very personal relationships with the Virgen and are willing to go to considerable lengths to perform acts of piety to show their devotion, she found among the Guadalupanos in the Chicago an especially inspiring story of displaced men and women who are determined to practice their faith and their culture no matter the odds. Elaine Peña has made an important contribution to our understanding of the predicament of Mexican immigrants by humanizing them and showing their resilient hope for a better life. I hope that her book will inspire serious and humane efforts at immigration reform in the United States.
2011 Book Award Winners: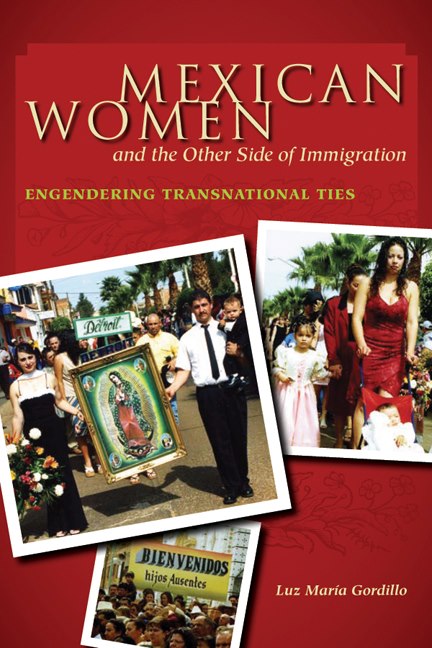 Luz María Gordillo- Mexican Women and the Other Side of Immigration: Engendering Transnational Ties. University of Texas Press 2010.
We are pleased to recognize the accomplishment, and award this year's ALLA Book Award to Luz Maria Gordillo's ethnography Mexican Women and the Other Side of Immigration: Engendering Transnational Ties. Gordillo's critical work contributes not only to transnational studies in Anthropology, but also to the less commonly explored Mexican immigrant experience in the Midwestern United States. Embedded with rich anthropological theory, Gordillo applies a feminist anthropological approach to transnational issues of community building and sustainability, labor, female autonomy, and family continuity. She intertwines her analysis with rich ethnographic vignettes, allowing participant agency to carry through her writing. Gordillo's timely work addresses gendered subjectivities and the making of home transnationally, even as the interlocutors are under siege. Gordillo demonstrates the complexity of lealtades or loyalties immigrants feel towards their dual communities amidst social, legal, economical, and cultural constraints. Our choice to honor a Chicana historian reflects the trend of Latina/o anthropologists to work in non-traditional departments, combining interdisciplinary theoretical and methodological approaches in ethnic and gender studies.
HONORABLE MENTION
Ruth Gomberg- Muñoz-Labor and Legality: An Ethnography of a Mexican Immigrant Network. Oxford University Press 2010.
We are pleased to recognize the accomplishment, and award this year's ALLA Book Award honorable mention to Ruth Gomberg-Munoz's ethnography Labor and Legality: An Ethnography of a Mexican Immigrant Network. This research highlights the various social networks Mexican migrants establish through their work and leisure activities in order to generate community and individual empowerment. Labor and Legality elegantly addresses important theoretical issues and debates in the Latino immigration literature such as identity, citizenship, race, and class all thread in an engaging ethnographic narrative. It was refreshing to hear from her research participants to such an intimate level. The ethnographic richness and fine-grained analysis will make this book an excellent pedagogical tool and contribute to educate the public at large on Latino immigration and policies at a time when this topic is at the center of national political debate.